Stronger, Faster, More Bulletproof.
It always amazes me how much time, money, and effort parents and ballplayers put into trying out for every travel ball team and playing year round. Yet, they make no such effort in starting, learning, and implementing a strength and conditioning program.
Baseball is already a sport prone to injury because of how repetitive and unidirectional it is. Add on top of that more practices, more games, and more private lessons, and it's only a matter of time before you break down.
Don't get me wrong. I think athletes need to work on their skills (throwing, hitting, fielding, etc.) to improve. However, too much specificity can lead to imbalances and imbalances can lead to injury. A well-designed strength and conditioning program can address these imbalances and help you become more bulletproof.
Baseball Training Methods is that program.
With training templates designed for an entire year, you will become stronger, faster, and more bulletproof. If a young ballplayer can learn the importance of strength and conditioning at an early age, he will stay healthier and also have a tremendous advantage over his peers.
Here's what you'll learn with Baseball Training Methods:
8 Items that Should Be in Every Baseball Training Program
How to Set Up a Strength & Conditioning Program for an entire year
How to Incorporate Soft Tissue Work, Pre-hab Exercises, and Dynamic Warm-up Movements into Your Training Sessions

Why Your Baseball Conditioning is Set Up the Wrong Way and How to Fix It

Baseball Training Methods includes:
Baseball Training Methods Guide
The Baseball Training Methods main guide is the starting point for all things related to your baseball strength & conditioning program.  We'll review the pieces that should be included in your program, and then discuss how to follow every aspect of the Baseball Training Methods Program.
Value – $95
Baseball Training Methods Training Templates
Training templates for your Off-Season, Pre-Season, and In-Season programs.  That's 10 months of training completely laid out for you!
Easy to print out to take to the gym with you.  Or, read them directly from your smartphone or tablet.
Value – $300
Summer Ball Training Templates
Summer ball is a unique time of year.  While the number of games tends to increase for ballplayers, there is a huge opportunity to increase strength and speed.
The Summer Training Templates are designed to help you make solid gains while staying healthy through the summer season.
Value – $100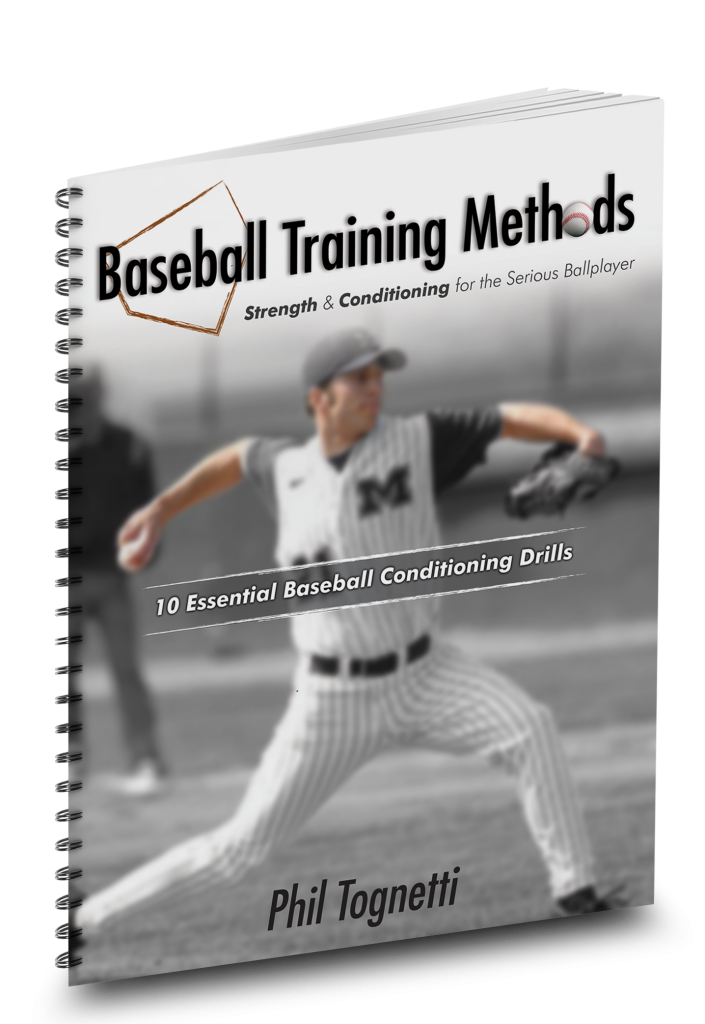 10 Essential Baseball Conditioning Drills
Long distance running for baseball is a thing of the past.  It's time to start implementing these 10 Essential Baseball Conditioning Drills right now.
Value – $30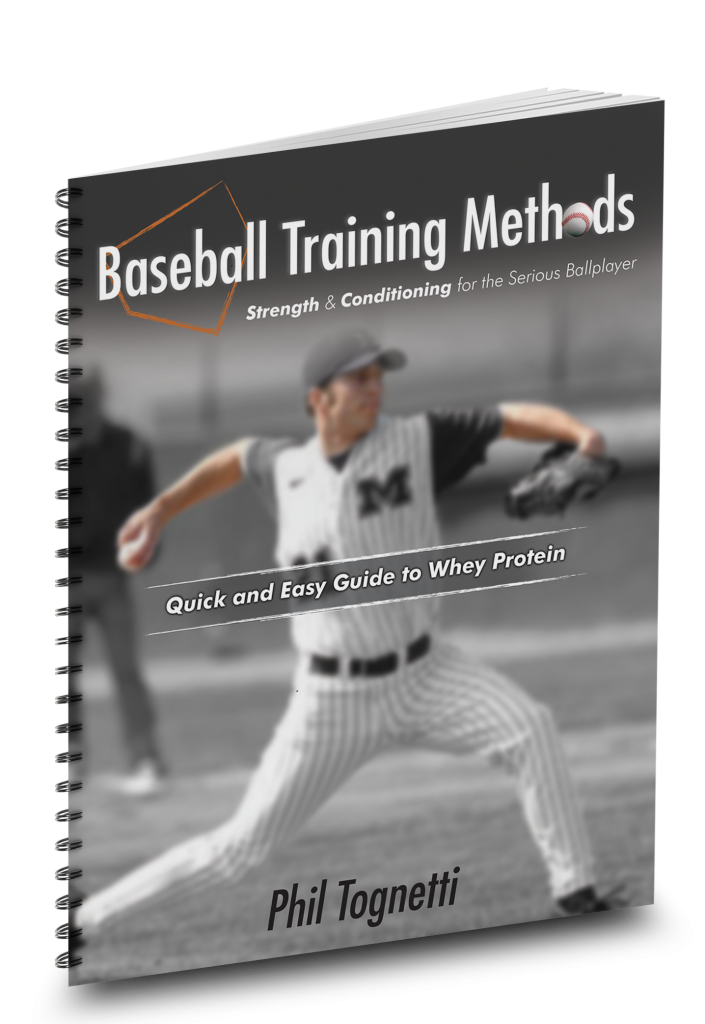 Quick and Easy Guide to Whey Protein
There's a lot of confusion out there when it comes to baseball nutrition, especially protein.  With this quick and easy guide, you'll have a better understanding of what whey protein is, why it's important, and if you need it.
Value – $10
5 Recovery Training Templates
Recovery is a big deal!  Training hard is important, but so is training smart!  You need to make sure you are planning rest and recovery periods throughout the year so your body can adapt to the training stresses placed upon it.
These 5 Recovery Training Templates will help you train smart during your recovery and deload weeks.
Value – $50
 Total Value of the Baseball Training Methods package = $585
However, Baseball Training Methods is available today for
just $247!

  That's less than what it would cost to train for just one month with me in-person.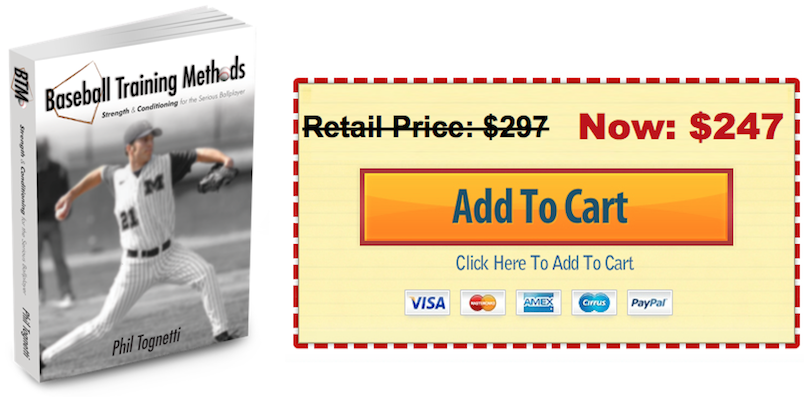 There's more!  Check this out!
Exercise Video Library
The Baseball Training Methods program comes with an online exercise video library demonstrating over 200 exercises within the program.  (More are being added each month until all exercises are included.)
You will also receive a guide with each exercise listed alphabetically and linked directly to a video for quick, easy access.
Frequently Asked Questions
What age is Baseball Training Methods designed for?
Baseball Training Methods is designed with the high school and college ballplayer in mind.  It's tough to make a strict line regarding age when it comes to strength & conditioning because all kids mature at different rates.  But in general, around 13-14 years old is a solid age to begin a more structured program that includes higher volume with weighted movements/exercises.

What kind of equipment do I need to perform the workouts in the program?
I've done my best to make sure that you can complete any of the workouts at your local gym.  You will need access to a squat rack, trap/hex bar, cable column, dumbbells, stability balls, kettlebells, and maybe a TRX.  Most commercial gyms should have all of these pieces of equipment.  If you purchase the program, but find yourself unable to complete an exercise because you don't have a piece of equipment, feel free to email me and I will make sure we give you a modification that keeps you on track.
How many weeks is the Baseball Training Methods program?
Baseball Training Methods is designed to keep you on a structured program for the entire year.  Whether it's the off-season, pre-season, in-season, or even summer ball, you will have a program to follow.
What if I do not understand part of the program or have questions?
I want you to succeed!  I don't want you to second guess any part of your strength & conditioning program, so if you ever have any questions, please do not hesitate to email me and I will do my best to help you out and keep you on track.
You can't really afford not to invest in Baseball Training Methods. It's easy to get started. Just click the button below, and an email will be sent to your email address. It will contain a link to download the program onto your computer. It's that simple.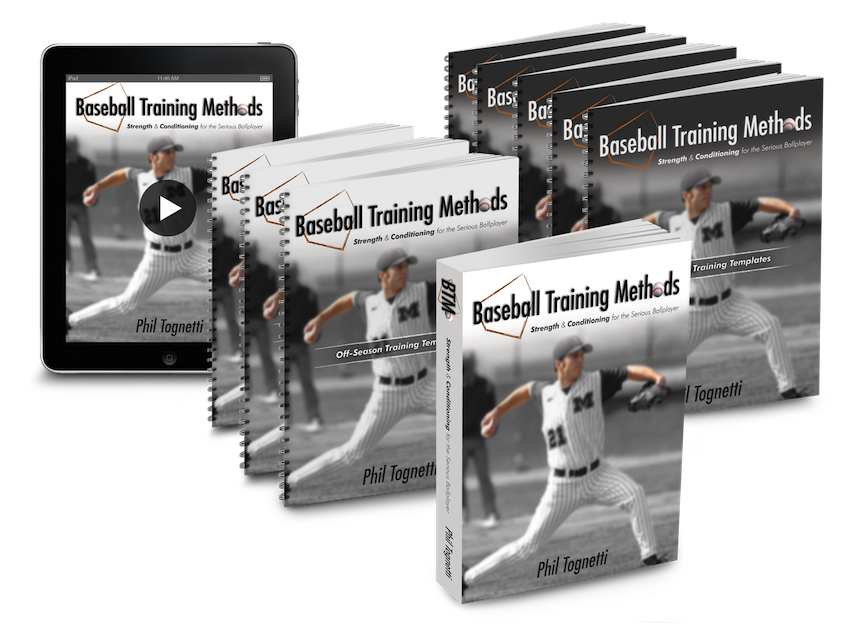 NOTE: Baseball Training Methods is a downloadable product. No physical products will be shipped. After you order, you will get INSTANT ACCESS to download the program onto your computer. The program and all templates are formatted as PDFs, which can be viewed on Mac or PC. If you have any questions regarding this program please contact me at phil@fullwindup.com. Click here to get Baseball Training Methods NOW!